Written by
Eric Kozlowski
on
KMIP at RSA 2017: freedom from proprietary key management
Here's a photo I took of the set up that the Crypto and Key Management team had set up at RSA 2017 recently, between the demos from Hancom and HPE. This was part of the demo booth for the OASIS open standards consortium.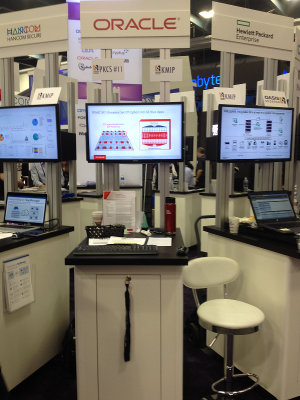 Demo description from OASIS:
The demonstration shows how KMIP enables both the interchange of security objects as well as the provision of encryption keys and cryptographic services across a common interface. Client and server implementations cover the full key management lifecycle including creating, registering, locating, retrieving, deleting, and transferring symmetric and asymmetric keys and certificates between vendor systems.