Written by
Eric Kozlowski
on
New CNOS release: customization, configurability, and more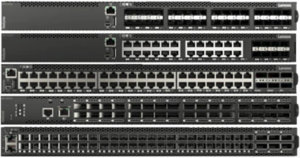 I'm excited to share that we've launched the latest release of Cloud Network Operating System (CNOS 10.10).
Some of the key updates related to customization, configurability, and security include:
Open Linux Shell
In CNOS 10.10, we've provided Linux shell access directly on the switch. This provides better flexibility so that administrators have support for installing different system applications
802.1x port authentication
This is a helpful security feature we've added to CNOS which leverages a standardized framework to provide port-based access control. It authenticates network clients by using unique information like username and password, or digital certificates.
Boot Profiles
On a traditional switch, the number of forwarding table entries is fixed. By leveraging the capabilities in the latest Broadcom ASICs, the forwarding tables can now share a common pool of resources. In CNOS 10.10, we've used this capability to customize the share for each of the forwarding tables. This includes the layer 3 route table, ARP cache table, and MAC address table.
In this new release we've also improved the accessibility of network telemetry data by using an embedded Redis database. This makes it possible to directly access the database from the Python API layer to streamline request processing.
For more details on CNOS 10.10 please check out the application guide and change history.